News Archive
Campini "motorjet" on film
In a major article in TAH6, Italian historian Gregory Alegi tells, for the first time, the full story of the Campini-Caproni C.C.2 of 1940, which embodied the extraordinary "motorjet" concept. Here is some footage of the aircraft in operation:
What they're saying about TAH . . . No 17 of an occasional series
Dion Makowski in Aviation Historical Society of Australia Newsletter Vol 29 No 4, December 2013:
"This is a publication which has caused quite a sensation amongst enthusiasts that I know... Clearly the publishers understand the demographic they are catering for... Once the reader picks it up – as I do, they may find it hard to put down again."
Tabloid replica unveiled at Brooklands Museum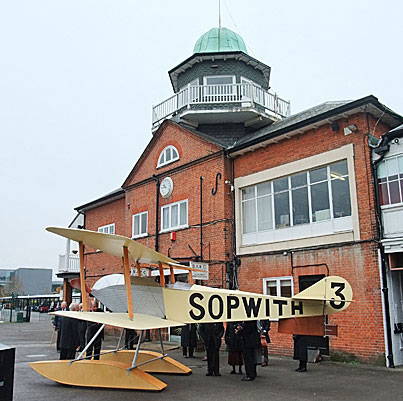 On November 27, 2013 Editor Nick and Managing Editor Mick attended the unveiling and handover of the new Sopwith Tabloid floatplane replica at Brooklands Museum near Weybridge in Surrey. Built by Steve Green and team, and sponsored by Kingston Aviation Heritage Trust, it was officially presented to the museum on a significant date: exactly 100 years to the day since Harry Hawker made the very first flight of the very first Tabloid from Brooklands. The replica is shown in front of the historic Clubhouse.
Vulcan narrow squeak
You've read the article (and if you haven't, you need to get hold of a copy of TAH5) – now watch the film! Here's YouTube footage of Avro Vulcan XH498's near-disaster at Wellington, New Zealand, on October 25, 1959, albeit from a considerably more distant viewpoint than the photographs in our journal:
TAH on TV!
On August 28, 2013, Managing Editor Mick appeared on BBC1 television's The One Show, talking about the history of skywriting, in a series of interview snippets with presenter Angellica Bell. The footage was filmed at the Shuttleworth Collection at Old Warden in Bedfordshire in July. The item has now been posted on YouTube:
TAH on Facebook
For more news, updates and comments, visit our Facebook page - please "Like" us and feel free to post relevant items of interest.
Short Brothers honoured with blue Plaque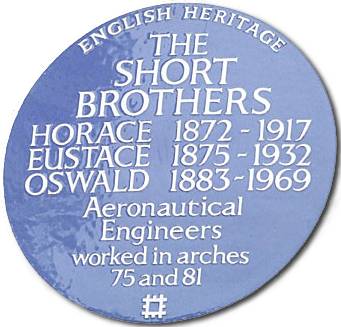 On Tuesday September 17 an English Heritage Blue Plaque commemorating the work of British aeronautical pioneers Horace, Eustace and Oswald Short was unveiled on the railway arches at Queen's Circus in Battersea, central London, where the brothers established a workshop which would become the foundation of one of the most important companies in the history of British aviation. TAH's Mick Oakey and Nick Stroud attended the event in their capacity as members of the Royal Aeronautical Society's Historical Group (RAeSHG) Committee.
Having been originally proposed some 30 years ago by fellow RAeSHG Committee member Arnold Nayler, the plaque was finally unveiled by RAeS President Jenny Body OBE in the presence of Short family members.
The brothers' association with Battersea began in June 1906 when they moved premises from Tottenham Court Road to build balloons, of which some 30 were built for members of the Royal Aero Club, which made the site one of its chosen flying-grounds – the balloons were filled with gas from the adjoining gas works. Aeroplane construction followed, the first Short-designed and-built machine, the underpowered Short No 1 (which never flew), being constructed at the arches during 1909. From these humble beginnings the brothers went on to become one of the most prolific and important aircraft companies in British – and indeed world – history, its Northern Ireland-based descendants Short Brothers plc now being part of highly successful Canadian transport manufacturer Bombardier.
Gordon Bruce, Company Secretary at Short Brothers during 1959–79, delivered a fine speech covering the significant achievements of the brothers and the mighty company they fostered, explaining that "Even though Short Brothers is now firmly established in Belfast, it is entirely appropriate that the plaque honouring Horace, Eustace and Oswald is here, on the arches where Shorts' long journey to Northern Ireland started, more than 100 years ago, in January 1909, when Oswald wrote the first entry in the new partnership's order book to record the order for Short No 1 – an aircraft designed and built here in Battersea".
What they're saying about TAH... 15, 16
A review posted on the X Planes blog on July 11, 2013:
"It is the variety of the articles that make TAH a stand-out for me. Where other publications would be concerned about devoting pages to current news, concentrating on a particular era for its articles and keeping a certain status-quo in order to not offend an established readership, TAH – as the new and versatile kid on the block – just 'goes for it'.
With a staff of only four, and the only contact number being a mobile phone, it feels part guerrilla publication, part fanzine, and part labour of love – but don't be misled, as the print quality, design, and art (including illustrations by Ian Bott and Juanita Franzi) is of an extremely high standard. TAH's editorial board includes the likes of Philip Jarrett – who will be familiar to British readers – and Dr Richard Hallion."
And another review, this one posted on August 26, 2013, by Canadian author and historian Donald Nijboer on his website :
"For those who believe the death of the magazine is upon us I would like to turn your gaze to The Aviation Historian. In today's climate of declining book and magazine sales the idea of a new publication hitting the stands seems a little well, dicey. Published by the team of Nick Stroud and Mick Oakey, this NEW magazine is a shining example of what happens when passion, drive, experience and a desire to produce a quality product come together. The Aviation Historian is not just another aviation magazine. Nick and Mick have put their focus on the thousands of untold and lesser known aviation stories that have yet to be told. Issue No 4 is chalk full of articles detailing everything from nuclear propulsion for aircraft to United Nations air ops in Lebanon in the 1958. I found Mick Oakey's article History or Hogwash? particularly interesting. Once again claims that experimenter Gustave Whitehead flew before the Wright Brothers re-emerged in March 2013. Mick Oakey points out without a doubt, the evidence is sketchy at best and of course what the Wright brothers did, that nobody else thought to do, was take a picture of their first flight".
Did Gustave Whitehead fly before the Wright Brothers?
It's a controversy which has resurfaced several times over many decades – and which in mid-2013 even prompted the US State of Connecticut to vote to honour Whitehad in place of the Wrights on its annual aviation day. Download TAH's analysis of the latest claims, by Managing Editor Mick Oakey.
Nuclear-propulsion tests on film
To accompany Jakob Whitfield's excellent article on the USA's Aircraft Nuclear Propulsion programme of the 1950s in TAH4, here is a clip of the Convair NB-36H trials aircraft. It wasn't nuclear-powered itself, but it had a live reactor on board in order to test (a) for radioactive emissions into the air, and (b) the lead shielding for the crew!
What they're saying about TAH... 13, 14
Brilliantly positive and supportive words here from Lee Bottom Flying Field in Indiana, USA (https://www.facebook.com/LeeBottom), July 2013 – thanks guys!:
"If you want to read what I consider to be the most interesting aviation publication in existence, check out The Aviation Historian. If you're someone who truly loves aviation; if your favorite plane in the world is not a P-51; if you find the unknown stories behind aviation to be fascinating; if you hunger for something other than the same old rehashed light reading that has become synonymous with aviation publications, then you'll love what you find at The Aviation Historian. Subscribe to see what you've been missing. This is not a paid advertisement. I stand behind my words. It has nothing to do with the fact our friend Nick Stroud is one of the founders. In fact, he is our friend because he is the kind of person who would dare start something of this caliber. Go take a look."
And a review in Issue 88 (April 2013) issue of New Zealand-based international bi-monthly Classic Wings: "The journal is edited by some well-known names in the field of aviation journalism, Nick Stroud and Mick Oakey, whilst well-versed scribes from the world over contribute – so there is little question that the content will be informative, authoritative and a darn good read! If you can't find something that piques your interest here, your passion is not what you thought it was!"
Indie film: The Flying Lesson
A short 16min film here that's well worth watching. The makers tell TAH that: "We really wanted to create a short film that would 'raise the bar' of what is possible on a low budget with a team of talented, ambitious, like-minded folks and create an cinematic short film. I must point out that this short has received no external/public funding and was shot on a very limited budget. It may not look it, but I guess that's the point!"
So have a look and see what you think. TAH suspects that you might (a) find some of the dialogue a bit cheesy, (b) see the plot twist coming several miles away and (c) spot some odd left-hand/right-hand stuff going on, but more importantly the overall story is engaging and the photography is delightful. And, as with other such independent films we've mentioned on this page, it is truly impressive to see what can be achieved with limited resources. Hats off to a fine job, we reckon. Let us know what you think!
What they're saying about TAH... 10, 11, 12
Review in the Spring 2013 edition of the Shuttleworth Veteran Aeroplane Society's journal, "Prop-Swing": "The Aviation Historian is a new quarterly magazine but... has the feel of a small softback. It is the brainchild of two well-known names in aviation journalism. Managing Editor is Mick Oakey, a previous editor of 'Aeroplane' magazine. In his editorial, co-founder and Editor Nick Stroud welcomes readers to a brand-new independent publication created specifically for historic aviation's 'true believers'. That sounds like us!"
"Buffnut453" on the www2aircraft.net forum: "... The overall quality is excellent both in terms of production quality and content. This isn't a cheap magazine but it's available as an ebook as well as a print edition. I can heartily recommend it to anyone who longs for the good old days of 'real' aviation magazines which covered interesting and esoteric subjects".
Review in Issue 88 (April 2013) of New Zealand-based international bi-monthly "Classic Wings": "The journal is edited by some well-known names in the field of aviation journalism, Nick Stroud and Mick Oakey, whilst well-versed scribes from the world over contribute – so there is little question that the content will be informative, authoritative and a darn good read! If you can't find something that piques your interest here, your passion is not what you thought it was!"
Pulsejets on film
Our short feature in TAH3 on the Arsenal Emouchet Escopette motor-glider – powered, remarkably, by wing-mounted pulsejet engines – encouraged us to seek out some video-clips of these noisy and crude-but-effective powerplants in action. Sadly we couldn't find film of the Emouchet Escopette itself in flight (if you know of any footage, please let us know!), but here is a somewhat startling demonstration of the noise and heat generated by a pulsejet being bench-run:
In addition to that, aviation enthusiasts of a certain age who have also been aeromodellers will know of pulsejet-engined control-line speed models, which came into vogue in the decade after World War Two and which are still flown today, although the racket they make tends to upset the neighbours. Here's an example:
Of course, the most familiar pulsejet to most of us is the Argus As 014, which powered Germany's V-1 flying bombs in World War Two.
Historic newsreels
Have a look at this website for an absolute cornucopia of archive films, mostly American military and mostly newsreel/information shorts, but with a few other subjects/formats too: www.imageevent.com
Airshow photographs
Some images by California-based photographer Paula Beehner caught our eye – view images
What they're saying about TAH ... 7, 8, 9
Here's another digest of reviews and comments that we've been posting on our Facebook page:
Minerva Miller MA MSc, University Librarian at the University of London: "A new journal: The Aviation Historian appears to be an attempt to fill the vacuum between dry academia and hobbyist periodical ... it is undeniably research rich, factually dense and of academic value but is also produced with a level of pictorial illustration and in a format that should draw in readers who might be alienated by a drier formal format." https://hushkit.wordpress.com
A post by "Kosh" on The Aerodrome forum: "This new journal is by far the best of current commercial aviation magazines in English I have seen for many years."www.theaerodrome.com
Wing Commander C.G. Jefford in Royal Air Force Historical Society Journal No 54: "Production values are high, with the many illustrations crisply reproduced ... the sixteen articles in the first edition are drawn from across the whole gamut of aviation history ... I wish this enterprise success." www.raf.mod.uk
Vostok on film ...
To complement Dr David Baker's article in Issue 2 of TAH on the sensational début made by the Soviet Union's Vostok space rocket at the 1967 Paris Air Salon, here is a 24min American documentary film of the show:
...and de Pinedo's fate
A major feature by the late Johnny de Uphaugh in Issue 2 is a biography of inter-war Italian long-distance pioneer the Marchese Francesco de Pinedo, whose life ended tragically in a take-off accident at Floyd Bennett Field, Brooklyn, in 1933. The following contemporary newsreel footage includes de Pinedo talking about his planned flight as well as, sadly, the accident:
What they're saying about TAH ... 3, 4, 5, 6
Here's a digest of further comments about Issue No 1 that we've been posting on our Facebook page:
Mike McEvoy on his "Grumpy Old Modeller" website: "It's a slightly larger than pocket-size magazine with a very interesting spread of articles to whet a variety of interests ... The editor is Nick Stroud, and many of the respected names on the "flannel panel" have been contributors to the Aeroplane and will surely be familiar to aviation enthusiasts ... The photographic coverage is well-presented with colour used where possible, and supplemented by artwork ... I think it's excellent ..." www.grumpyoldmodeller.com
Terence Burns on Hyperscale.com's Plane Talking forum: "Some of the crowd from Aeroplane magazine have launched a new title, The Aviation Historian. The first issue is out, and is available both in print or electronically. For those of us on the 'wrong' side of the Atlantic an electronic edition of issue one, as well as a free preview publication, are available at Pocketmags.com, for viewing on a PC or tablet. I just picked it up (can one say that about an 'e-magazine', I wonder?) today, and I am very impressed. The quality of the writing, editing, and layout is first-rate ... It's a great read, and looks like a very promising publication." www.hyperscale.com
Jon Pote (he's a contributor to TAH, let's be upfront about that!) in New Zealand Aviation News: "The one hundred and thirty pages ... contain sixteen authoritative in-depth articles ... all have impressive content ... It is expensive ... but this is a work of reference to keep. The editorial team of Nick Stroud and Mick Oakey has impressive credentials, with other prominent names on the editorial board. Back copies of this first issue will surely soon be unavailable, so look at www.theaviation historian.com and make a decision soon. Highly recommended." www.aviationnews.co.nz
Nico Braas on Serbia-based aviation blogger Srecko Bradic's LetLetLet-Warplanes.com website: "The photographs and other illustration material is of very high standard ... All together it is a very varied selection of mostly lesser known aviation stories and all I can say (is that) it is 130 pages full of aviation pleasure reading!" www.letletlet-warplanes.com
TAH goes digital
As promised when we launched, we are delighted to announce that our digital edition is now available! See our Shop and Subscribe pages for a link to take you to our digital partners Pocketmags.com. It is designed for all popular formats – the Apple app is the only element that has yet to be released, but it's imminent!
What they're saying about TAH . . . 2
A review in the Winter 2012 edition of Air-Britain's Aviation World quarterly begins with these words –
"It is not often that a new aviation magazine appears on the market, so it is pleasing to see a new initiative by Mick Oakey and Nick Stroud, formerly of Aeroplane Monthly"
– and has resulted in an encouraging number of subscription and sample-issue orders. For the full text of the review, see our Facebook page; and for more on Air-Britain and its superb range of publications, see www.air-britain.com.
What they're saying about TAH . . . 1
Here is our first published review, from the December 2012 issue of British general-aviation magazine Pilot: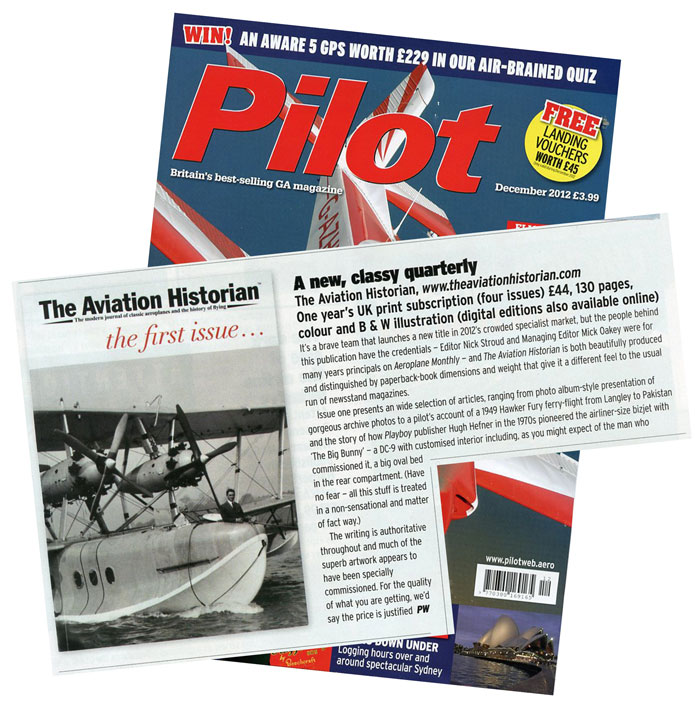 Film review: Shady Lady
Documentary drama film; running time 90min
A Fact Not Fiction Films production, directed by Tristan Loraine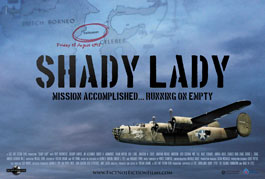 Watching its gorgeous air-to-air opening sequence of a Consolidated B-24 Liberator over the ocean, and hearing its swelling orchestral score, it is easy to believe that Shady Lady is a fully-fledged Hollywood feature film, despite its much less ambitious billing as a dramatised documentary. The second scene therefore lands the viewer with a bit of a bump, as undramatised reality kicks in with an octogenarian lady and an Aboriginal elder discussing, on a remote North Australian saltpan, aeronautical events of 70 years earlier.
So is that a problem? Well, oddly, not really. On the one hand, the sometimes uneasy jumps that the film makes – between pure-documentary, drama-documentary, and feature-film-effects – can prevent the audience from becoming fully absorbed in the story; but on the other hand, it is such a cracking story that all tends to be forgiven.
The Shady Lady of the title was a B-24 of the United States Fifth Army Air Force's 380th Bombardment Group, placed under RAAF control in Darwin, northern Australia, and tasked with a long-distance mission to bomb a vital Japanese-held oil installation 1,100 nautical miles away in Borneo. The fact that the target was beyond the bomber's official maximum radius makes the story appealing enough, but what happened during the mission itself makes it compelling.
Suffice it to say that Shady Lady ended up in the air for 16hr 35min, believed to be the longest bombing mission flown up to that time; ran out of fuel; forced-landed on the above-mentioned saltpan; and was repaired (including the bringing of a complete new nose section 40 miles over difficult terrain to the site) and finally flown home.
Told mainly via a mixture of colour dramatised action and voiced-over archive footage, the film focuses on the mission itself. Much of the drama is well done, with actors convincingly portraying the typically very young crew (from the back, the captain sometimes looks like a 12-year-old) and with handheld filming inside the Collings Foundation's B-24 giving a good impression of the cramped, awkward conditions they endured. A sequence depicting a Japanese fighter attack on Shady Lady, seen mainly from the receiving end, is convincingly chaotic; and comic as well as dramatic spice is added by the copilot (a lawyer before the war), who wears an almost perpetual look of horrified incredulity throughout the proceedings.
Minimal reliance is placed on CGI, thankfully, although the saltpan crash-landing sequence would have needed a proper Hollywood budget to look convincing rather than diagrammatic. This is outweighed for any enthusiast, though, by cinematographer Nathalie Grace's majestic work in the genuine flying sequences.
Towards the end of the film the lack of a massive budget sees the aftermath of the forced-landing depicted in archive stills and not in an expensively-filmed scene of the epic 27-day rebuild; however, all in all, it's the mark of a documentary that is punching well above its weight, not a feature-film that is punching below.
And the tribal elder and the octogenarian lady? He is a member of the Balangarra, who came to the stricken crew's aid when they landed in the middle of nowhere in 1943. She is the pilot's widow – flown out, almost 70 years on, to the site of her late husband's masterly forced-landing after the longest 16hr 35min of his life.
VERDICT: For an independent film created by a small UK-based team on what must have been a shoestring budget, Shady Lady displays exceptional cinematography, especially of the flying sequences, and a strikingly impressive musical score – neither of which one really expects in a documentary drama.
For details of how and where to see it, check www.factnotfictionfilms.com
Mick Oakey, November 7, 2012
Hot off the presses ...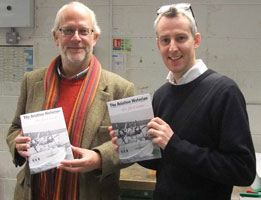 The TAH headquarters team visited the journal's printers in North London on October 16, 2012 to see Issue No 1 being completed. The 132-page compact-format publication "feels considerably more like a book than a magazine", says Managing Editor Mick Oakey. "Even though we've been working on it for many months and essentially knew what to expect, there is still no substitute for actually picking up the finished object, feeling the weight and the paper quality, and flicking through it to see the sheer quantity of material it contains".
(Photo – Editor Nick Stroud (right) and Managing Editor Mick Oakey with the first two copies of TAH Issue No 1 to emerge from the printer's production line.)
For more pictures from the visit, see our FaceBook page.
"Big Bunny" on film
Where better to start than by bringing you this stylish six-minute film? It's about Playboy founder Hugh Hefner's private Douglas DC-9, N950PB, the subject of one of the flagship features in Issue No 1 of TAH.
Mosquito flies in New Zealand
Newly rebuilt by Avspecs Ltd at Auckland, New Zealand, for Jerry Yagen of Virginia Beach, Va, USA, de Havilland Mosquito FB.26 KA114 made its display debut on home turf at Ardmore Airshow on September 29, two days after its first post-restoration flight. It is the first time a Mosquito has been seen in the air since the fatal crash of British Aerospace's preserved T.III, RR299, at Barton, Manchester, on July 21,1996.
Who's Who on the TAH Editorial Board
Our Editorial Board consists of ten people, all of them prominent in the aviation history world for one reason or another, who act as occasional specialist advisors to the Editor and Managing Editor. They are, in alphabetical order:
Dr David Baker
Between 1965 and 1990 David worked with NASA on the Gemini, Apollo and Space Shuttle projects. He has written articles and special publications for Aeroplane magazine, but is perhaps best known as an author of more than 80 books on spaceflight technology – including Haynes's NASA Space Shuttle Owners' Workshop Manual.
Ian Bott
A full-time graphic artist producing complex infographics for the UK newspaper industry, Ian also does freelance work, having produced artwork for Aeroplane's regular Aircrew series since its inception. He has received awards from the The Society of Newspaper Design, and his work for Aeroplane has formed an exhibition at the RAF Museum.
Robert Forsyth
The owner of Chevron Publishing, Robert worked in the shipping industry until 1995, when he changed tack and applied his passion for aviation and military history to the business of book publishing. To date he has published or produced some 200 aviation or military titles. He is also author of several books dealing with the Luftwaffe during World War Two.
Juanita Franzi
While training as an industrial designer, Juanita pursued her aviation interests through involvement in projects such as the restoration of the AWM Airco D.H.9. She eventually changed professions, becoming a specialist aero-historical and technical illustrator. Her work has appeared in more than 45 books and various publications, including Aeroplane. She is based in New South Wales, Australia.
Harry Fraser-Mitchell
Spending most of his career in the British aviation industry – apart from national service in the RAF – Harry rose to become Chief Aerodynamicist for Handley Page Ltd, and Head of Aerodynamics (Hawk) at BAe. After retirement he became a part-time lecturer at Kingston University in Surrey, and is a respected author of historical articles and papers.
Dr Richard P. Hallion
Formerly Senior Adviser for Air and Space Issues, Directorate for Security, Counterintelligence and Special Programs Oversight at the Pentagon, Dick Hallion has also been Curator of Science and Technology at the National Air and Space Museum, and the Official Historian of the USAF. Since his retirement from US Government service he has stayed active as a historian and lecturer.
Philip Jarrett
A leading authority on early aviation, Phil has been a freelance editor and consultant since 1990. Previously he was Assistant Editor of the RAeS's Aerospace, Assistant Editor of Aeroplane and Production Editor of Flight International. He has written many papers and articles, and his books include biographies of British aviation pioneers Percy Pilcher and F.K. McClean.
Colin A. Owers
Recently retired from his career as a local government engineer/town planner in New South Wales, Australia, Colin has since 1971 been writing articles and books on World War One aircraft, especially from a technical standpoint. He has assisted aircraft restorers, replica-builders and model kit manufacturers, and has been a volunteer with the RAF Museum and the Australian War Memorial.
Julian Temple
Julian is General Manager – Museum Operations at Brooklands Museum in Surrey. He was formerly the museum's Curator of Aviation, and has written magazine articles, especially on the subject of Miles Aircraft, and the book Wings over Woodley. He is also a Morris Minor enthusiast, renowned for bringing an aviation flavour to "Moggie" gatherings with his Dan-Air pickup and Court Line van.
Capt Dacre Watson
Retiring after 40 years flying for BEA, BA and SIA, Dacre now indulges in his real interest, airline history. Author of Red Sea Caravan and numerous articles, he is on the Historical Group Committee of the RAeS, where he is also a Fellow. He also works closely with the Aviation Historical Society in Chile (his birthplace) and contributes to the Captain's Log of the World Airline Historical Society.
Gallery
Paula Beehner photographs
You know sometimes when you're at an airshow, and you see something – an aircraft, a person, could be anything – which absorbs your attention to the extent that all the hubbub of the event seems to fade to silence for a few moments? We think some of California-based photographer Paula Beehner's images of the 2012 Chico Air Show encapsulate that rather well, so here are four examples from her website at https://paulasphotoart.smugmug.com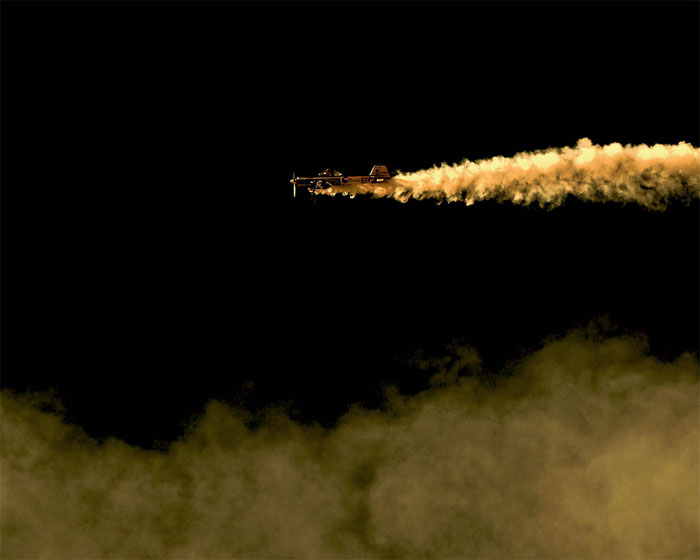 Carl Liepold making smoke-trails in his Yak-55M. Paula Beehner/paulasphotoart.smugmug.com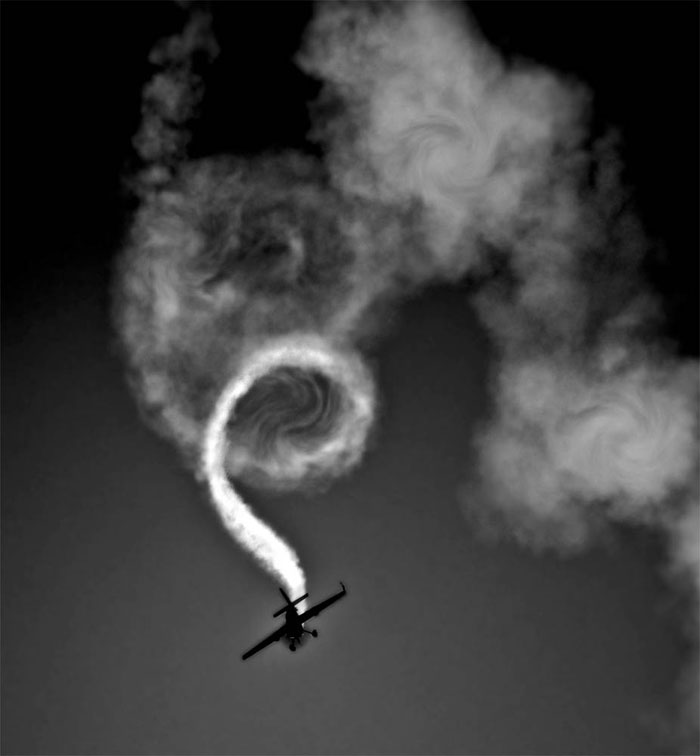 Beautiful smoke-eddies created by some rapid rolling. Paula Beehner/paulasphotoart.smugmug.com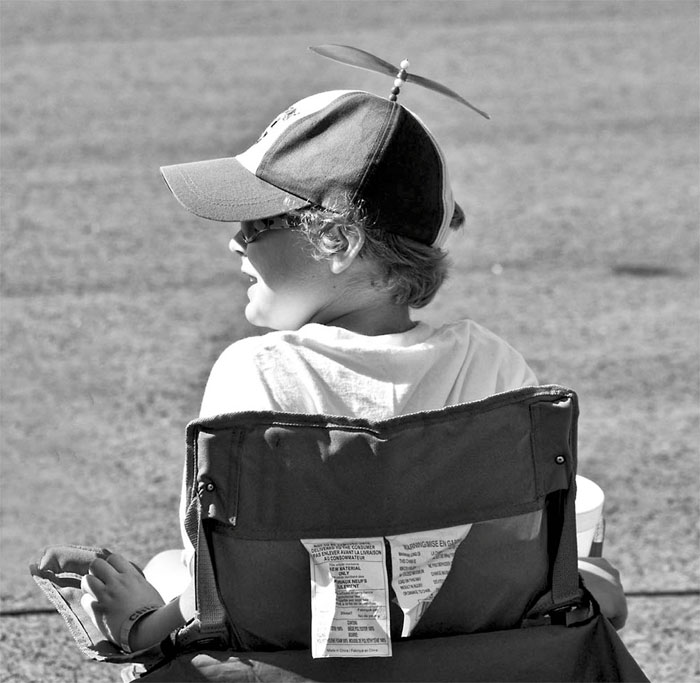 A junior propeller-head. Paula Beehner/paulasphotoart.smugmug.com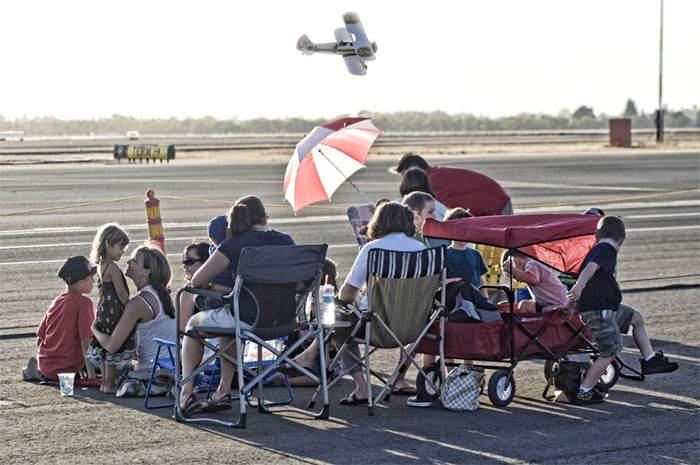 It's generally stated that about 94 per cent of airshow attendees are families, with just 6 per cent being us enthusiasts. Here a section of the majority engages in sunlit bonding while the Jelly Belly Stearman does its stuff in the background. Paula Beehner/paulasphotoart.smugmug.com
And from TAH's own archive...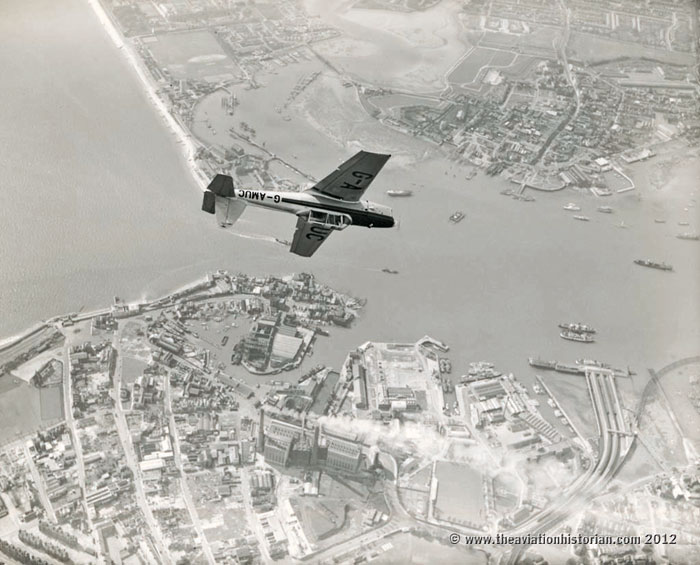 Broughton-built de Havilland Chipmunk 21 G-AMUC gambols over Portsmouth after its delivery to Hamble-based Air Service Training in October 1952.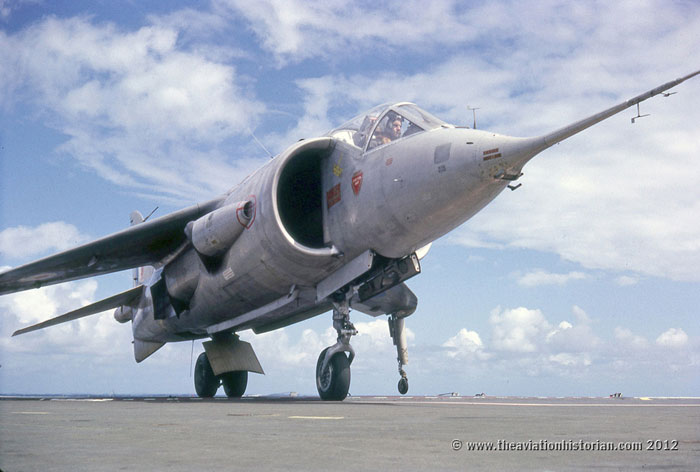 We originally captioned this image as being Hawker Siddeley test pilot John Farley in P.1127 XP984 aboard HMS Bulwark in June 1966. However, John contacted The Aviation Historian to put the record straight: "I did not fly from Bulwark in June 1966, so if the ship and date are right, the pilot is wrong!" After a little digging we found that it was in fact John's colleague Hugh Merewether. It's a fair cop – thanks, John! This aircraft is now on display at Brooklands Museum.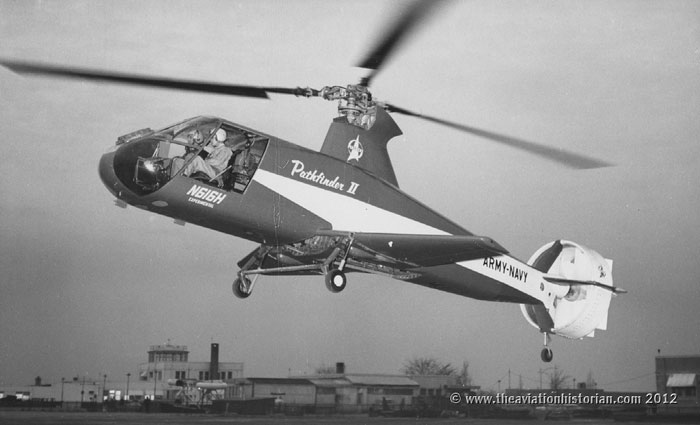 The Piasecki 16H-1A Pathfinder II was one of several machines built by the company in the 1960s while engaged in research into the high-speed compound helicopter concept, whereby the rotor is unloaded in flight by means of a wing. An in-depth feature on Piasecki's compound helicopters is coming soon in The Aviation Historian.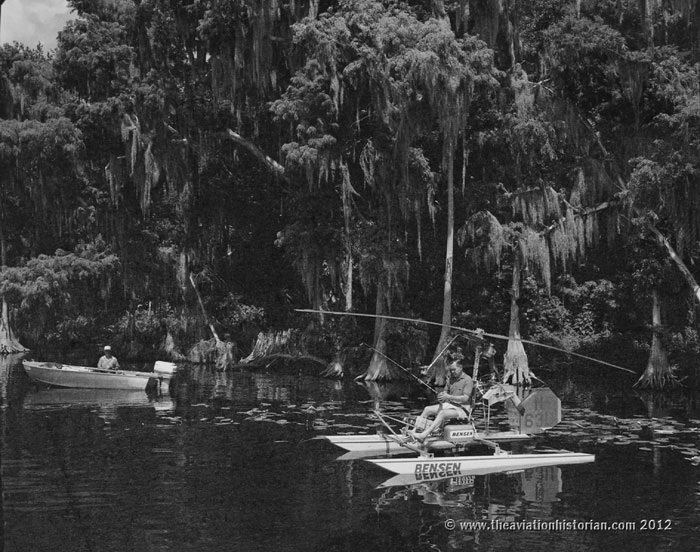 Gone fishin' – perfect for getting away from it all, the Bensen B-8MW Hydrocopter was a classic 1950s idea that, perhaps disappointingly, never really caught on. Capable of 40–75 m.p.h., the Hydrocopter was powered a 72 h.p. McCulloch two-stroke engine and was a development of the Gyroboat – literally just a skiff with a rotor!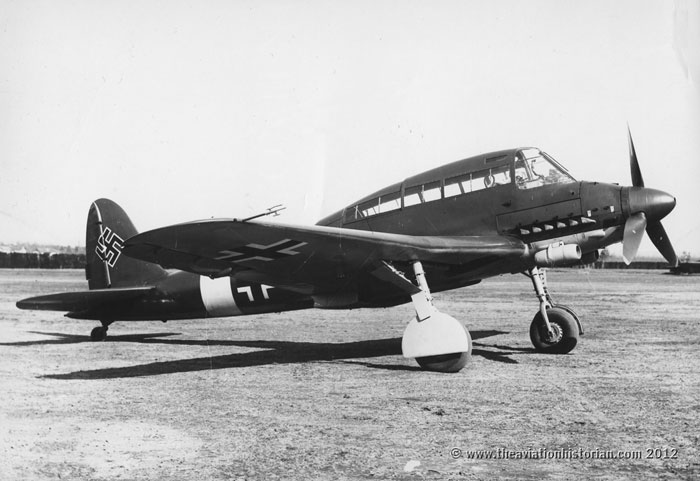 Seen here in Luftwaffe markings, the sole Savoia-Marchetti SM.93 ground-attack aircraft was the Italian company's final World War Two design. It carried a crew of two, with the pilot lying in a prone position, and was powered by a Daimler-Benz DB605 engine. Look out for more on this and other little-known Italian wartime designs in forthcoming issues of The Aviation Historian.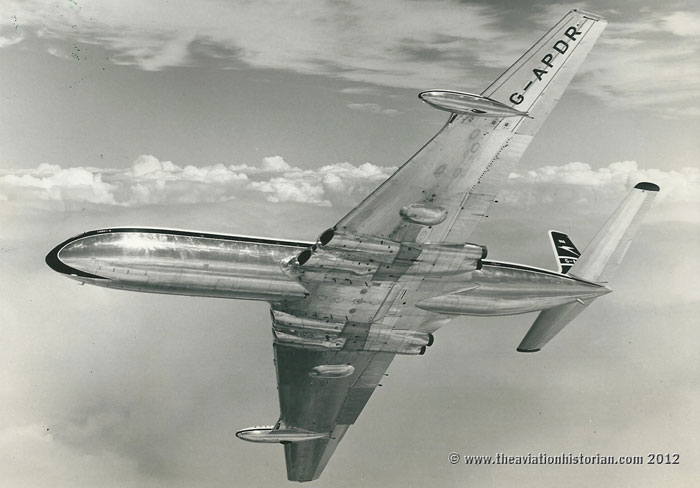 A magnificent portrait of factory-fresh de Havilland Comet 4 G-APDR of BOAC shortly after its first flight in July 1959. Flying the flag for Britain on long-haul routes until 1965, G-APDR later went on to serve with Mexicana.