Between them, the founders of The Aviation Historian – Nick Stroud and Mick Oakey – amassed 39 years' experience on renowned historic-aviation monthly magazine Aeroplane before its sale to new owners in 2010.
Backed up by ten years' earlier joint experience elsewhere in aviation publishing, museums and learning (not to mention lifelong enthusiasm), they constitute an authoritative team with an enviable track-record of presenting high-quality in-depth aeronautical history.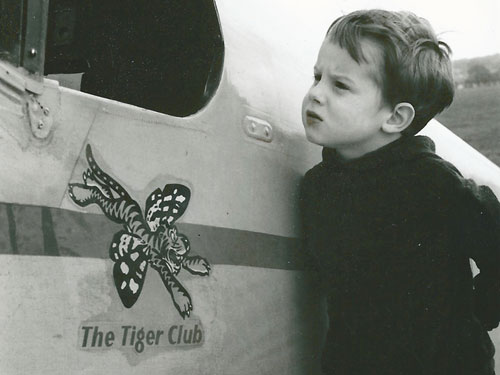 Nick Stroud – Editor
Born while his father was putting together the first issue of Aircraft Illustrated as one of its founding Editors, Nick was brought into the world with the sound of aero-engines in his ears. Indeed, he regards a perforated eardrum – sustained as an infant, thanks to the noisy debut of the Royal Navy's F-4K Phantom at Farnborough in 1968 – as a badge of honour. Having served an apprenticeship as chief camera-bag-holder and ever-present sidekick to his aviation-obsessed father, who had worked in the industry since 1948, Nick was immersed in all things aviation throughout his childhood and was taught the difference between a Hawker Osprey and a Hawker Hartbees like other children were taught their times tables.
Trying his hand at theatre and music in his teens, Nick returned to his first love when, in 1996, he was recruited to work on Aerospace Publishing's innovative, and still highly-regarded, aviation journals World Air Power Journal and Wings of Fame, the latter crystallising his desire to concentrate on aviation history. Serving as Picture Manager for Aerospace until 2000, Nick was delighted to realize a lifelong ambition to work for another highly-regarded title, Aeroplane, joining as a picture researcher and editorial assistant that year. The pieces fell into place and Nick stayed with the award-winning magazine until 2010, having reached the position of Deputy Editor.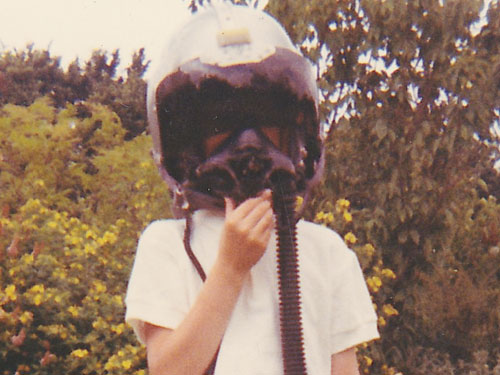 Mick Oakey – Managing Editor
The son of an RAF wing commander pilot and a former American Overseas Airways stewardess, Mick has been passionate about aviation since early childhood in the 1960s.
In 1979 he became a Ministry of Defence Student Engineer at RAE Farnborough and Bedford, and embarked on an aero-engineering degree course at Imperial College, London; but his predilection for the history and romance of aeronautics led him in 1981 to change direction and become a junior curator at the Royal Air Force Museum, Hendon. Two years later he joined Aeroplane, and in 1998 he succeeded Richard T. Riding as Editor, a post he held until he retired in 2010, after 28 years on the magazine.
He is a member of the Royal Aeronautical Society's Historical Group Committee, and in 2011 he received the Air League's prestigious Scott-Farnie Medal from HRH The Duke of Edinburgh for "most meritorious work in the field of air education" in recognition of his work on Aeroplane. On the odd occasions when he is not absorbed in aviation history, he is absorbed in Egyptology; he is a member of the Egypt Exploration Society and a founder member and committee member of Sussex Egyptology Society, a registered educational charity.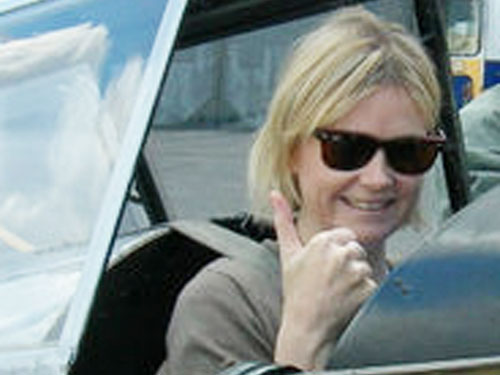 Amanda Stroud – Production Manager
Married to Nick, Amanda worked for BBC TV before moving on to event management. She subsequently joined IPC Media and became Production Editor on Aeroplane, remaining there until 2010.
Her strong background in magazine publishing and events organisation qualified her to co-ordinate all the media and public accreditation for HM The Queen's Diamond Jubilee celebrations in 2012.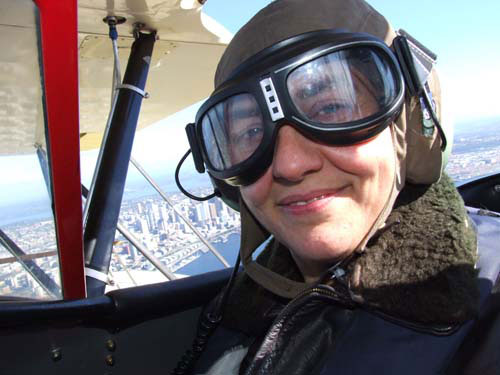 Lynn Oakey – Finance Manager
Married to Mick, Lynn has had a career in financial services, working originally for Barclays Bank before moving into the sphere of life assurance.
She helped to set up the accounting procedures for Woolwich Life Assurance upon its inception, and more recently worked as a data analyst.
Webmaster
David Siddall of David Siddall Multimedia designed and built this website for us, having worked with Mick Oakey for many years, creating websites for Aeroplane magazine, Sussex Egyptology Society and Bloomsbury Summer School. Sadly David died in January 2022, but he will not be forgotten. Our website updates and maintenance are now in the capable hands of our Internet Service provider Paul Dodd of Dodd & Associates, a long-established friend and colleague of David's.
FAQs
Q – Why can I no longer order TAH issues or subscriptions for delivery to the EU from your website?
A – On July 1, 2021, the EU made changes to the way that VAT is collected which affects any business based inside or outside the EU which sells goods or services to EU consumers (other than in their own country).
The changes affect the sale of TAH in two main areas:  (1) where transactions are taxed and (2) the removal of the low-value transaction threshold of €22. For VAT, transactions are now taxed at the rate applicable in the destination country rather than the selling country, and all goods are subject to VAT regardless of their value.
To eliminate VAT and customs/handling charges being payable by our customers on delivery, single issues of TAH are now being sold via our eBay shop where VAT at the correct rate is applied at the point of sale (up to a value of €150).
The situation for subscriptions is rather more complicated: If VAT is charged at the point of sale, currently we have not been able to confirm that all subscription issues sent will be exempt from VAT and customs/handling charges being applied upon delivery. Until we are able to obtain clarification, we have regretfully decided to suspend the sale of subscriptions to EU countries.
Q – Why is TAH smaller in size than most other aviation magazines?
A – We were inspired by other niche magazines we admired, such as American music bi-monthly waxpoetics, by the satisfying feel of more mainstream titles of similar format such as National Geographic, and by the memory of the magazines of our youth in the 1970s and '80s such as Aero Modeller and Aircraft Illustrated. There is something very satisfying about this size of magazine – 245mm x 170mm – as a small object of desire. Also we wanted to create something that was clearly different from the usual aviation-history and aviation-enthusiasts' magazines, which are mostly A4 or very similar. We chose the perfect-bound rather than saddle-stitched (stapled) binding partly because of the combination of fairly high page-count and thicker-than-normal paper, and partly because it enables us to put issue details on the spine. This means that if you store the magazine on your bookshelves it nestles comfortably alongside your Putnam books etc, and you can immediately see which issue is which.
Q – What cards can I use to pay securely on-line?
A – The debit/credit cards that we accept are shown on the relevant Subscribe, Renew and Shop pages. Once you click on the "Checkout" button from the shopping basket, you will be redirected to either Worldpay or PayPal (depending on your payment choice), where your payment will be securely processed – our website does not capture any card payment details.
Q – Why do you only have a mobile telephone contact number?
A – We are a small team and we all work from home, with no office staff to answer telephones for us. As we're often out and about, the best way to contact us is via e-mail or post; but if we're here we will pick up the call, and if we're not you can leave a voicemail message for us.
Q – Do I get a discount if I order more than one single current/back issue?
A – Unfortunately not. We try and keep our prices as low as possible and since each price quoted includes postage and packaging, there aren't any savings that we can pass on.
Q – Can I buy a subscription as a gift?
A – Yes, of course you can – a subscription to The Aviation Historian makes a lasting and welcome gift for any enthusiast of the subject. When you order online just send us an e-mail with details of the recipient's name and address, plus any special request e.g. delivery as close as possible to a birthday date etc.
Q – If I subscribe, how long will I have to wait for my first issue?
A – We aim to supply your first subscription issue within 10 days of receiving your payment – and usually it will be quicker than this. If you have taken the option of commencing your subscription with the next available new issue (rather than the current issue), we aim to send the issue out within 7 days of the publication date.
Q – Whom do I contact if I want to submit something for possible publication?
A – Please contact the Editor, Nick Stroud, if you have any material you wish to be considered for publication. Nick's contact details are in the footer panel on all our website pages.
Q – Whom do I contact if I have a problem with my subscription?
A – We hope that there won't be any problems, but if something does go wrong then please contact the Managing Editor, Mick Oakey. Mick's contact details are in the footer panel on all our website pages.
Q – What if I move house in the middle of my subscription?
A – Please notify us of any change of address as soon as possible so we can ensure that you don't miss out on your issues of The Aviation Historian. Please contact the Managing Editor, Mick Oakey. Mick's contact details are in the footer panel on all our website pages.
Q – Can I cancel my subscription part-way through?
A – Unfortunately no. However, we want you to be completely happy with the magazine so if you have any problems please contact the Managing Editor, Mick Oakey, in the first instance so we can try to help. Mick's contact details are in the footer panel on all our website pages.
Q – Do you publish readers' letters?
A – Yes, we love to hear from readers, and a selection of letters will be published. Please send letters (in e-mail form if at all possible, as we don't have a typing pool to input them into our computer system!) to the Managing Editor, Mick Oakey. Mick's contact details are in the footer panel on all our website pages. We try our best to respond to all correspondence, but we cannot always guarantee a reply.
Q – Is the magazine available as an e-book for Kindles and other devices?
A – Yes, digital editions are available via our digital partners Pocketmags.com – see our Single issues and Subscribe pages for a link.
Q – Can I buy prints of the pictures used in the magazine?
A – The images we use in the magazine are highly desirable and we appreciate that some people would like to have a printed copy of their own. Depending on the copyright and ownership of the images in question, we are happy to sell high-quality prints. Please contact the Managing Editor, Mick Oakey, with details of the image(s) you are interested in, and we will check availability and price. Mick's contact details are in the footer on all our website pages.